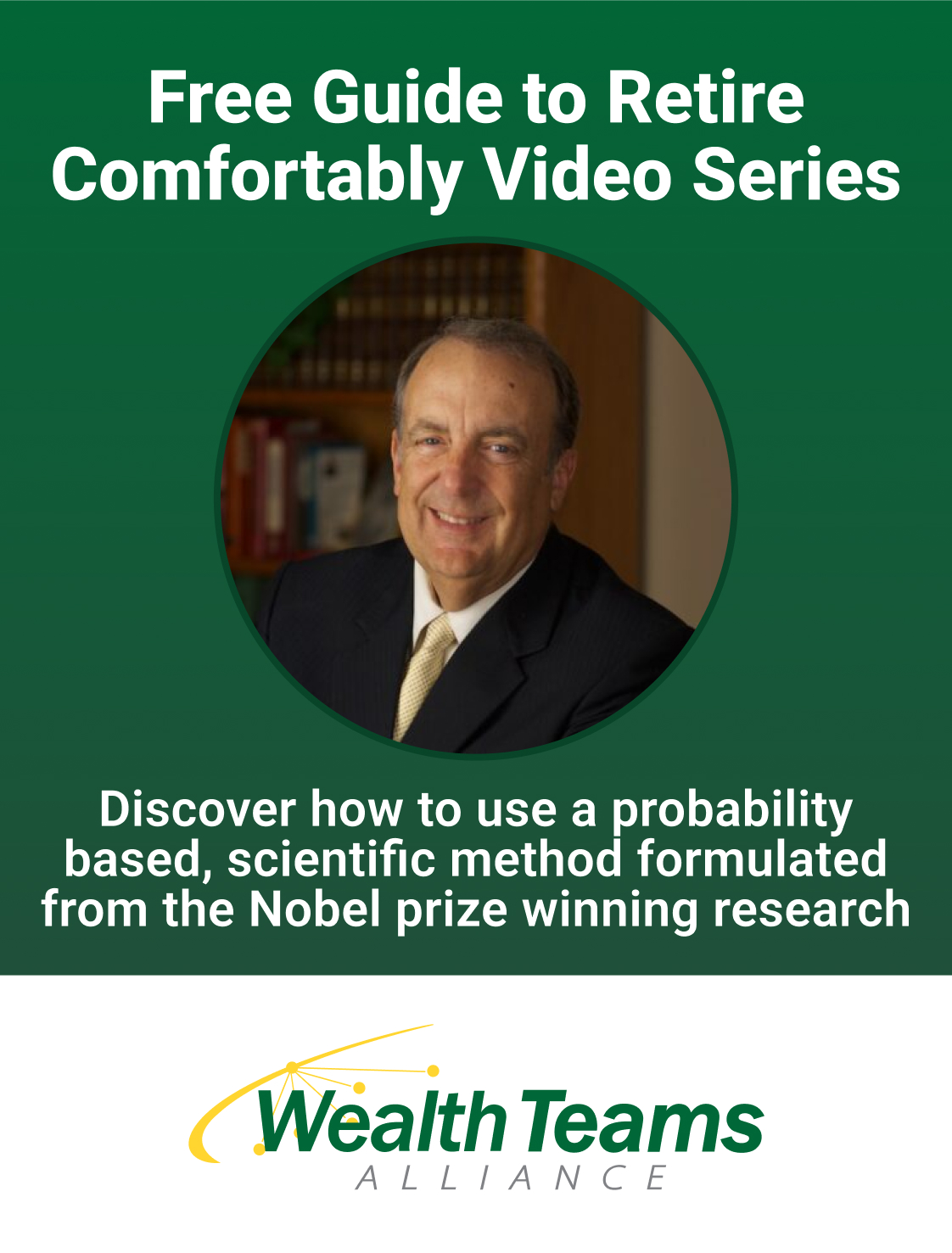 "Free Guide to Retire Comfortably" video series:
"Wealth Teams Solution's 3 Factor Model"
If you have a $500,000 (or more) portfolio . . .
Discover how to use a probability based, scientific method formulated from the Nobel prize winning research to help you get the highest probability of having the best return with the least amount of risk over your investing years.
. . . As a gift for qualified, smart investors, you can also discover how your portfolio would have performed historically when compared to real market data using our free Expected Return Analysis ($2500 value).
If your investment advisor isn't using our Wealth Teams Solution's 3 Factor Model – developed over the last 50+ years and backed by groundbreaking probability based, scientific research developed from 6 Nobel Laureates in Economics – you could experience Investment EROSION of as much as 1% – 2% of your return from incurring too much risk, high fees, poor allocation, cash drag, and high trading costs. . . 
This 1-2% EROSION could cost you 25% - 44% of your portfolio's value over the next 30 years!
Are you worried about your portfolio performance? Are getting the best returns, with a proven methodology from your current advisor? Or if you are wondering, "What happened to my money?", or if you have ever wondered, "Could I be getting a better return?", then get these free videos right now!
In this "Free Guide to Retire Comfortably" video series, here is some of what you will learn:

The 4 most

common

ways financial EROSION will reduce your return

How to answer The Three Questions that can significantly impact your ability to retire comfortably – in my 50+ years of asking these questions,

nobody has ever confidently answered any of these three questions

.

How fees are silently eroding your portfolio. Discover how much you are losing and how to eliminate them forever.

What Does It Take To Invest Successfully?

The Wealth Teams 3 Factor Model using the 6 Nobel Laureates economic findings that allows us to eliminate guesswork and invest client portfolios with scientific rigor

An in-depth example of how we use these 3 factors to turn real time market data into gold for you.

What the Efficient Frontier is and see – it is possible to change your position on the Efficient Frontier increase the probability of getting a greater return with the same risk you are "buying" now? Or, possibly getting the same return with less volatility risk?

How We Build a Consistent and Stable Income in Retirement
Get this Free Guide Video Series before your portfolio erodes even further
"Wealth Teams has allowed us to be comfortable and confident in our retirement years"
– Jill
"Dr. Guy Baker with Wealth Teams has been a very major player helping us manage the reserves we need for over 100 cases in active litigation"
– Brad
"When I retired from JC Penney's is I hadn't invested with Guy Baker and Wealth Teams, I'm sure that I wouldn't be as comfortable as I am today"
– Lee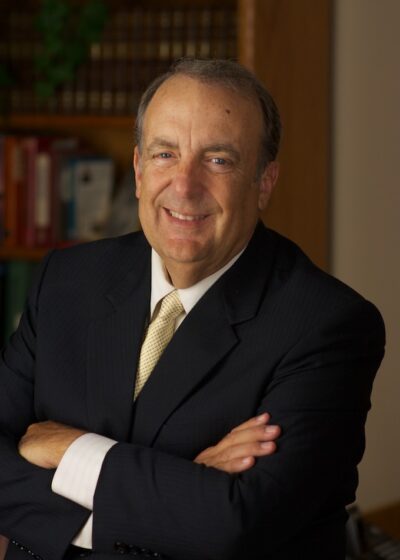 About Guy Baker:
Guy has been a wealth and liability consultant since graduating college over fifty years ago. As a frequent writer and speaker, he has addressed advisors in more than thirty countries, appeared on numerous talk shows and tele-video conferences, and many times from the Platform of the Million Dollar Round Table (MDRT). He is in the NAEPC's Estate Planning Hall of Fame. Has lectured at various estate planning council meetings around the US, been a keynote speaker at several CLU institutes, and was featured on numerous American Society Televideo conferences.
His most recent book, The Great Wealth Erosion, details the four factors investors need to understand and improve portfolio performance. Other books written by Guy include Manage Markets, Not Stocks and Investment Alchemy, which are both guides to understanding Modern Portfolio Theory. He also wrote Market Tune-Up, Why People Buy, Baker's Dozen – 13 Principles for Financial Success, and Maximize the RedZone, a guide for business owners. His bestselling book is The Box, an easily understood guide to the mathematics of life insurance.
Guy has been featured in a number of places and has also written numerous books. See below for an abbreviated list of his many accomplishments.
Professional Awards & Affiliations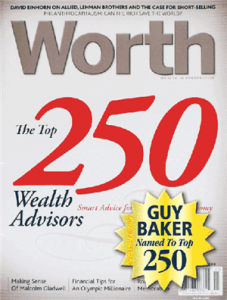 Served as the 84th President of the Million Dollar Round Table (MDRT) – the premier association of financial professions with over 66,000 members in 72 countries – and has qualified for the same organization 48 times.
Recipient of the 77th John Newton Russell Award (2019). The highest honor given by the financial services industry to an individual who has demonstrated high achievement and merit as an advisor, volunteer, and servant leader. Given annually by the National Association of Insurance and Financial Advisors (NAIFA).
Recipient of the Norman G Levine Live Achievement Award by the California State NAIFA Chapter. Guy is the 40th advisor in California to receive this honor.
One of only fifteen members of the Top of the Table (TOT) to qualify more than forty times
President of MDRT Foundation in 2000
Board Member, Advanced Association of Life Underwriters (AALU), Washington D.C based, working with Congress to formulate industry-responsive legislation
Two-term President, National Association of Family Wealth Counselors, which he helped found
Pacific Life's Preston Hotchkis "Distinguished Achievement Award," 1971 & 1995
Elected to the National Association of Estate Planning Council Hall of Fame, 2005
Named by Worth Magazine as one of the USA's top 250 financial planners, 2010
Chosen by OC Metro as a 5-Star Advisor five times, 2012-2018
Professional Experience
Manages several entities developed to address the three circles of wealth of high net worth (HNW) families.

Co-manager, Insight Wealth Solutions, LP – a multi-disciplinary practice acting as wealth consultants for HNW families and businesses.

President, Associates in Insurance Concepts, Inc dba BTA Advisory Group – a risk management consulting firm specializing in life insurance and 401(k)s

Managing Director, BMI Consulting, LLC – a national management consulting firm addressing the problems facing closely held businesses, succession, executive compensation, and transition strategies

President, Baker-Mountford Insurance Services, Inc.

Managing Member, Wealth Teams Alliance – a Registered Investment Advisory firm (RIA).
Education
Bachelor of Science in Economics (BS) in 1967 from Claremont McKenna College

Master of Business Administration in Finance (MBA) in 1968 from the University of Southern California

Master of Financial Services (MSFS) in 1983 from The American College

Master of Management (MSM) in 1984 from The American College

Doctor of Philosophy in Financial and Retirement Planning (PhD) in 2018 from The American College

Charted Life Underwriter (CLU) 1972

Certified Financial Planner (CFP) 1981

Accredited Estate Planner (AEP), Distinguished
Community Service
Chairman of the Board, American Family Living

Elder, Grace Church in Laguna Niguel, CA

Founding Trustee, Grace Classical Academy, a private school for families seeking a Christian classical education

President's Council, Biola University

Regional Board Member, Link's International